United States oil prices are rallying thanks to an unexpectedly large draw (12mm barrel draw versus a 2mm barrel forecast) in oil inventories this week. Not to be forgotten, Iran and the Middle East weigh heavily on the mind of global crude traders as well. Touching $59.93 today, the U.S. benchmark oil index, West Texas Intermediate Crude OIl settled at $59.38/BBL.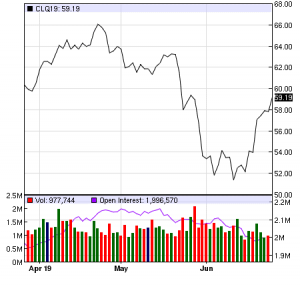 While still not at the recent highs from May, oil seems poised to make another run at $60. Stay tuned this week for news from OPEC. Expect a bearish outcome, if Oil Price.com is accurate in their assessment: "Following downturns, U.S. shale oil starts to resuscitate around $50/b WTI and grows wings at $60/b, a price level with which oil companies active in Canada, Norway, Brazil and Guyana now also feel comfortable, following the sharp reductions in upstream costs which followed the collapse of oil prices at the end of 2014."
OPEC's target should, therefore, be no more than $60/b Brent to stabilize run-away U.S. oil production growth and stimulate demand. Aiming higher means giving up value via lower market share."
As always, if you want any help with your oil production, mineral value or royalty needs, we are always here to help.
If you are looking for financial solutions for your oil and gas producing assets, we have a better idea for you! Contact Advance Royalty Company to learn more about oil royalties.